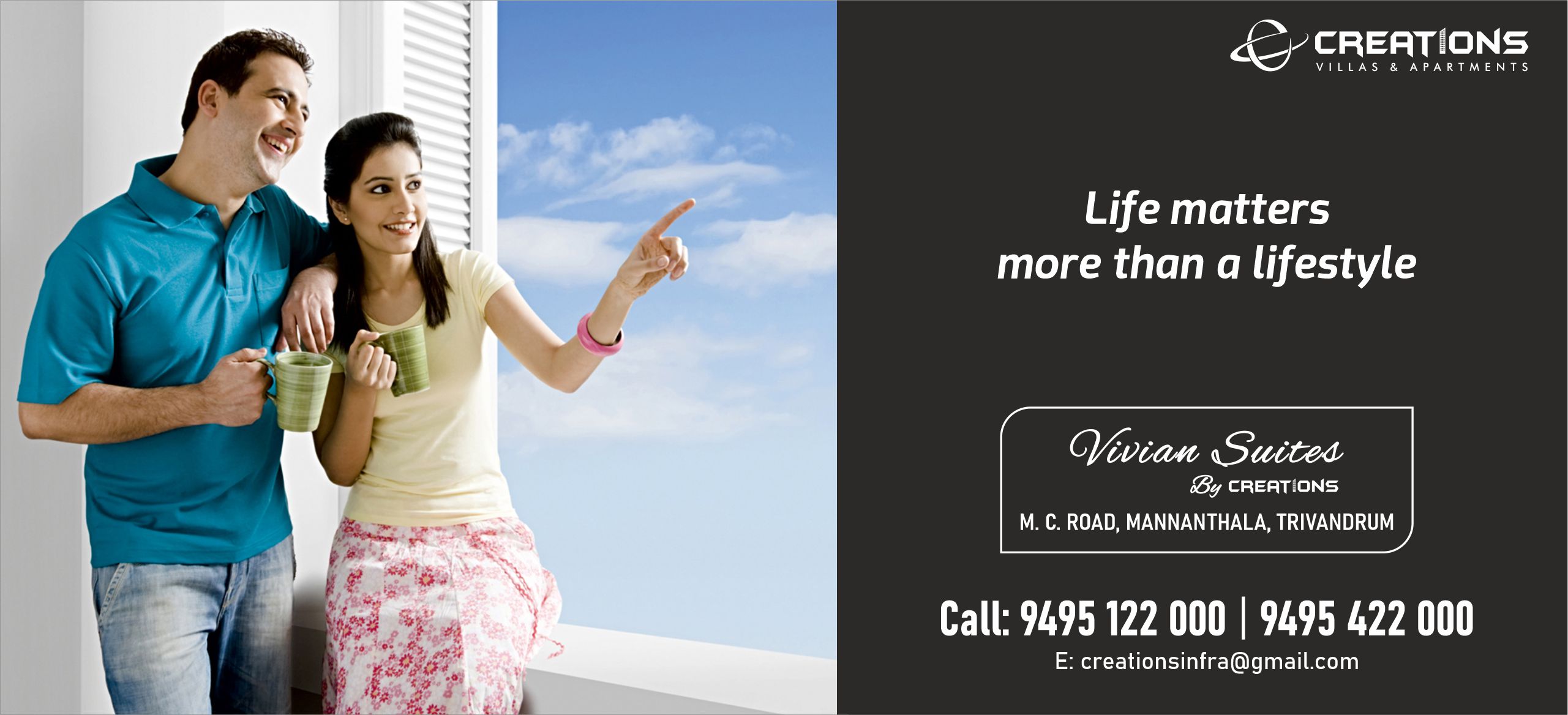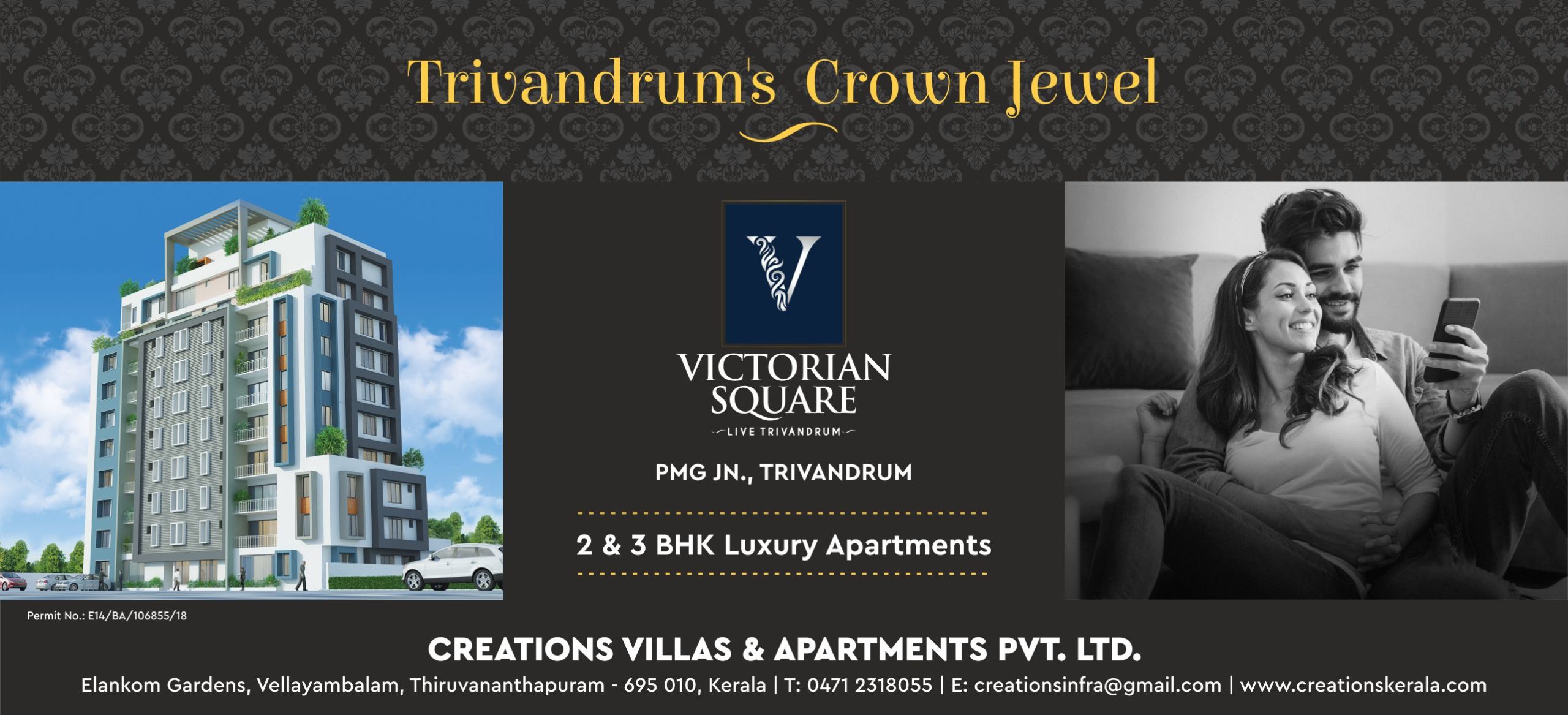 Welcome to Creations Villas & Apartments
Homes which reflect your taste, inside-out!
We are Creations Villas and Apartments, one of the best builders in Trivandrum for all types of homes and commercial constructions. We specialize in various types of homes and residential properties in Trivandrum ranging from budget-friendly Villas and Apartments in Trivandrum, to luxury flats as well as commercial spaces, apartments, townships, and multiplexes.
As a top builder in Trivandrum, we are the go-to home construction specialists offering flats and villas for sale in Trivandrum. With Creations Villas and Apartments, customers can choose from a wide range of options of 2 or 3 BHK flats/apartments for sale in Trivandrum. We are home construction specialists with experience in both the budget and luxury segments.
Home construction in Trivandrum is a very competitive industry. For the past 35 years, Creations Villas and Apartments has built a reputation among construction companies in Trivandrum by consistently providing quality housing, dependable customer service, and on-time delivery. This has also earned us respect among the builders in Trivandrum. All of our projects – Apartments, homes, Luxury flats, and budget-friendly flats – are located in prime locations and in excellent neighbourhoods in Trivandrum. Our projects are designed to provide excellent quality of life to the homeowners.
WHY CHOOSE US
BEST QUALITY END-TO-END
Creations Villas and Apartments takes pride in being experts in all aspects of construction, from conception to completion. Our professionals and specialists are well-equipped to manage any obstacles or unique client requirements. Our extensive knowledge, gained over three decades of construction experience, puts us in the greatest position to tackle even the most complex projects.
We work with top companies and only use high-quality materials for all of our building projects. At Creations Villas and Apartments, every component and process is of the highest quality and second to none. Each of our projects demonstrates our continuous commitment and consistent efforts to provide high-quality housing solutions to meet the diverse needs of all types of families.
GREEN CONSTRUCTION
In all of our projects, we encourage and support new Green Building Concepts by deploying creative and cutting-edge equipment and technology, as well as appropriate strategies. As a result, in addition to conserving the environment, we provide a cleaner and safer home for our consumers.
The building industry places a high value on the site's biological and natural ecology. As a result, we strive to give back to the environment and maintain this delicate balance by reducing our demands on nature. We are leaving a cleaner and healthier legacy by implementing green building techniques. Using green concepts also means lower costs and easier home maintenance after many years of building.
COMMITMENT TO SAFETY
As a construction company, the safety and security of all involved are of paramount importance to us. The safety of our workers during construction and safety precautions for the whole building in the future is having prime importance for us. One way to ensure a safe and secure home is to use only quality materials. Also incorporating safety features in the design goes a long way in creating a safe home.
A home that gives its occupants a sense of safety and security is key to building and raising happy families. And happy families in turn raise happy communities and societies. We are glad to do our part toward meeting this end.
EXPERIENCE & EXPERTISE
Creations Villas and Apartments has been creating a growing tribe of happy homeowners for the past 35 years – through our experience spanning over three decades and our continuously growing expertise gained by handling projects with different demands. To consistently deliver quality and successful projects for such a long length of time is no mean feat.
Today, we are a top builder in Trivandrum because we learn from each of our experiences and we are constantly building expertise to help us in our day-to-day operations. In our 35 years of being in the home construction industry in Trivandrum. We have seen many new trends and practices come into existence. We have been able to adopt these new techniques and quickly become good at them.
BUILDING TO LAST
As a frontrunner in Home construction and a top builder in Trivandrum, Creations Villas and Apartments prides itself on conceptualizing and executing quality projects with all modern facilities. Being responsive and able to deliver on the client's requirements, make us a much sought-after Construction Company in Trivandrum.
Each of our projects is unique and cater to the specific need of the homeowner. We offer tailor-made solutions to suit the diverse and independent demands of our customers. This is why we are considered among the best builders in Trivandrum.
Owning residential property in Trivandrum, one that fulfils your desires, is not a dream anymore. Through our budget-friendly projects, we make it possible for everyone to own their own home. For those who want to upgrade to a bigger home for a growing family or those who want to invest in a second home, we have a full range of luxury villas and apartments in Trivandrum that they can choose from. A home for everyone is our mission.
Contact us today to know more about flats, apartments, and villas for sale in Trivandrum. Choose from the widest range of 2 and 3 BHK flats that are ready to occupy. From our projects and choose the one that best fits your needs.
OUR VISION
CUSTOMER DELIGHT
We follow a simple guideline – rise to and deliver beyond client demands and have tailor-made solutions to suit every project. We do not have a 'one-size-fits-all' policy. Each of our projects is unique and follows its own systems and procedures – all led by the needs of the client. By being flexible and reactive to the customer's needs we are able to rise to the challenge and deliver a final product that exceeds their expectations. In addition to our customer-centric approach, maintaining the highest levels of quality in all aspects and delivering a clean and green project on time adds to the delight of our homeowners.
Know More about our Project